Fade the memory…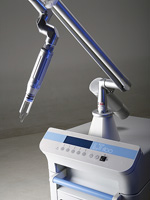 With the powerful and effective LaserYourTat System, it's finally possible to remove your tattoo safely with minimizing scar formation. Our LaserYourTat Centers utilize proprietary technology to remove your amateur or professional tattoo safely and effectively. Compared to ALL other systems on the market, this laser simply provides THE BEST results.
LaserYourTat treatments use your body's own defense mechanisms to remove the pigment. When your tattoo was applied, your body encapsulated the ink in the skin's collagen.
The LaserYourTat laser uses multiple wavelengths of laser light energy to break up the large ink pockets into smaller particles. Over a period of weeks, your body will carry off these small particles. The larger particles that remain may require several treatments, but the tattoo gradually fades to just a memory.
The LaserYourTat Laser has been granted complete clearance by the FDA. The LaserYourTat Laser is preset to safe levels, and our LaserYourTat Staff follows stringent safety precautions at all times.
An extremely flat laser beam profile delivers energy deeper into the skin with minimal to no damage to the skin.
The most unique feature of the LaserYourTat Laser is power. This simple, yet vital, feature advances the standard of care in laser tattoo removal. It is able to deliver the highest energy of any laser at 4 separate wavelengths for high-quality results on multi-color tattoos of ALL shapes and sizes.
The high powered wavelengths provide safe and effective treatments for a wide variety of tattoo inks. The nanosecond pulse width makes this state-of-the-art technology safe and suitable for ALL skin types. This equates to  EXCELLENT RESULTS and a happy you!
If you have a tattoo whose time has come and gone, please call 201-313-8899 for our NJ LOCATION. Please call 833.YOUR.TAT (833-968-7828)  for our CHELSEA LOCATION.  Our highly-trained Staff will share their expertise, answer all your questions, and estimate the cost and number of treatments.