Fade the memory…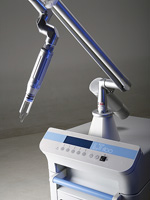 Expressing oneself with a tattoo may have seemed like a great idea at one time…but you may now regret it.
But hope is nownot lost – The Naturalase QS4Max LASER technology by Focus Medical eliminates tattoo inks in a safe and effective manner. It combines the largest spot sizes, and is the most powerful and effective tattoo laser on the market. An extremely flat beam profile delivers energy deeper into the skin with much less damage to the surface of the skin.
The most unique feature of the Naturalase QS4max is power. This simple, yet vital, feature advances the standard of care in laser tattoo removal. The Naturalase QS4Max LASER system is able to deliver the highest energy of any laser at 4 separate wavelengths for high quality results on multi-color tattoos of ALL shapes and sizes.
The high power 1064, 532, 650, and 585 nm wavelengths provide safe and effective treatments for a wide variety of tattoo inks. The nanosecond pulse width makes this state-of-the-art technology safe and suitable for ALL skin types. This equates to: 3 lasers + high power = EXCELLENT RESULTS and a happy you!
Call 201.313.8899 to schedule your free consultation!