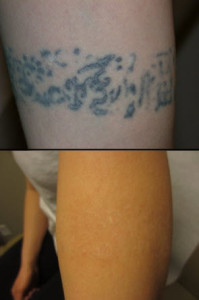 Effectiveness of a treatment depends upon several factors:
• Medical practitioner and his experience utilizing LASER technology.
• Up-to-date, powerful LASER tattoo removal technology with a minimum of 1-2 Joules of LASER energy. (Our QS4MaxLASER System has twoJoules.)
• Tattoo color and how deeply it was placed in the skin.
• Age of tattoo and location on the body.
• Skin color – darker skin may require more sessions and sessions will need to be spaced further apart.
• Medical history (i.e. do you have keloid or hypertrophic scar formation?)
• Other Concerns: the doctor will provide you with more details during your complimentary consultation.
LaserYourTat … today!